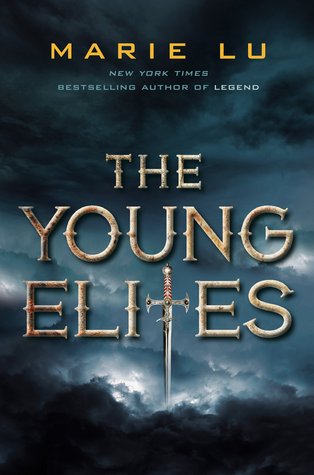 Years ago, the blood fever ravaged Kenettra. Adults who suffered from the fever died, while the young survived. Those afflicted were marked by the disease forever, and dubbed malfettos. The malfettos of Kenettra are mistrusted and held in contempt, but rumors travel that the blood fever left these youths with more than a mark. The Young Elites are malfettos who developed unique powers, and a few of these Elites have gathered to form the Dagger Society. This society is spearheaded by Prince Enzo, an Elite and a malfetto of the royal family, and their goal is reclaiming his throne from the unrightful king of Kenettra and justice for all malfettos.
At least, verbally, that's the goal of the Daggers. They're pretty Machiavellian; the ends justify the means and all that. I like the Italian touches. It makes everything feel familiar, even though the world we're dealing with is new and strange.
Adelina is a dark character. From the beginning, we learn that about her. Raffaele, one of the Daggers, does research with each Elite he meets to discover their "alignments" and she aligns strongly with fear, fury and ambition. That's a terrifying combination. Personally, I love that Adelina is so dark. She's strong and she's angry. She's also scary, and she appeals to the darker, more vengeful side of the reader. If I'd been through half the trauma that she'd been through, I'd be in a similar mindset.
I like Enzo a lot too. He's also dark and brooding, but I continue to be surprised by his good streak. He isn't gentle, but he also isn't cruel. His Elite power is to control fire, which suits him well. He is all heat and passion. I wish YA royalty had fewer fire princes, but it's symbolic of the force and command they need to rule their country.
Speaking of surprise, I continue to be surprised by Raffaele. He never presents himself as the gentlest Dagger, but I'd imagine his day job produces some kind of humanistic empathy. At every turn, he proves me wrong. He's cold, calculating. Where Enzo is the vision that propels the Daggers forward, Raffaele is the strategist who keeps them on the path.
I just finished the Legend trilogy by Marie Lu, and I was expecting something more like that. But this is… not that. It's much darker, for one. You can tell Lu enjoyed writing an anti-hero. Both the worlds are well-built, but they're so different. Legend featured the advanced Republic, but Kenettra is basically medieval. One of the blurbs for Rebel (which is the recently announced fourth novel in Legend series) calls Lu's writing style "cinematic". I don't know that I can think of a better word for it than that. She paints such a vivid picture, it's almost like the reader is living through the chaos.
The Young Elites was truly a wild ride.There was almost nothing I didn't like about this book. It's original and fiery and vengeful. It can be a heavy read, but well worth it. I can't wait to continue with the series.