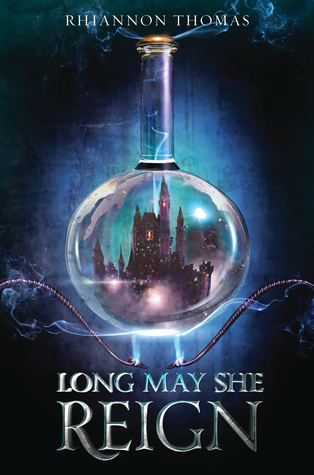 Freya is twenty-third (you heard right, 23rd) in line for the throne.  Tragedy strikes during a party that the current king was hosting and the whole line of succession before her is wiped out.  Suddenly, Freya is queen and insistent on finding the killer.  Oh and shes an inventor on the side.
The character development was nice to see in this book.  When we first meet Freya, she wants nothing to do with the ruling the kingdom or even going to the kings extravagant parties.  In fact, she would rather hole herself up in her make-do basement laboratory.  However, after she becomes queen and realizes the amount of debt the kingdom is in, she immediately starts thinking of new ways to fix their growing debt.  We also see that she is a compassionate ruler, after learning the town is being taxed for ridiculous reasons.
She goes from a timid character, letting her advisors do most of the work while she merely sits by and nods her head, to an outspoken queen who wants nothing in return other than knowing her kingdom is happy.
The mystery of who killed the line of succession is kept a secret very well.  I am impressed with how exceedingly difficult it was to figure out who the culprit is.  We also get to a look into basic chemistry whenever Freya conducts her expirements.
The small amount of romance is just that, small.  It doesn't overwhelm the book, and it isn't lacking either.   Fitzroy, who is the deceased kings bastard son, gets roped into helping Freya figure out who killed his father.  There is a bit of distrust in the two and Freya soon starts to trust Fitzroy with more than just information.   And Freya meets Madeline, who is her successor.
We know that Freya is a decent detective with all the information she throws at us.  She finds the back story and makes sure to make sure its a solid alibi before crossing any names off of a list.
I enjoyed this book.  It was definitely a good read for me.
4/5 Stars
Mysterious and romantic
Great character development
Decent plot
Definitely recommended.