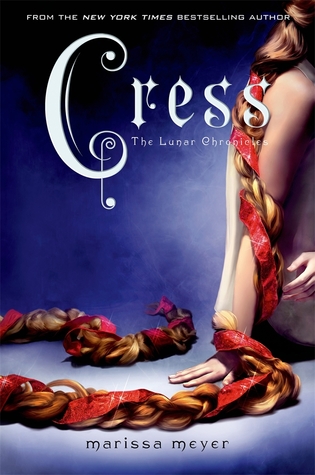 Thorne has rescued the hacker locked in her satellite and they've crashlanded to Earth. While they're making they're way through the dessert, fighting for survival, Cinder is flying Wolf to Africa to find Dr. Erland and save Wolf's life. Along the way they've gathered a guard who says his loyalty lies with his Princess, and they've lost Scarlet who was taken by Thaumaturge Sybil Mira. In the middle of all this, they're still struggling to come up with a plan to stop the royal wedding, overthrow Levana, and put Cinder on the Lunar throne.
We finally get a glimpse of the brutality of the Lunar Court. Scarlet was taken, given as a toy to be tortured by some terrible Lunar boy, and brutally interrogated by Queen Levana. When the Queen was through with her, she gave Scarlet to her step-daughter who is slowly losing her mind.
Thorne is rightfully struggling with self-esteem. Cress worshipped him when she was on the satellite. One-by-one he debunked all of the heroic ideas she's had about him, and doing so has really hit his ego. His honesty only seems to make Cress like him more. With his remorse, and his concern for Cress and the other members of his crew, he seems almost swoonworthy (instead of being a giant eyeroll as per usual).
The point of this book is assembling our Avengers. We're getting all of the necessary pieces in the same place so we can put our big plan into action. We got rid of some dead weight, used knowledge from other characters to advance our cause, and now we're ready for the big boss battle. Because of that, most of these plot lines are continuations without major development.
Marissa Meyer's story writing ability continues to improve with every novel she puts out. Cinder's finally turning into an interesting character. The pace of the novel makes more sense. She's beginning to show us how important political events of the past are especially relevant to current events in the Earthen Union. Each of these books has continued to improve and I'm excited to read Winter next.