I think I might be a fiction.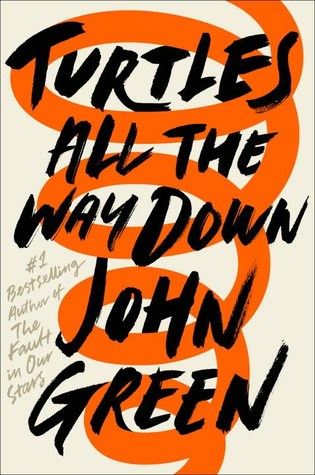 Aza Holmes is a young girl struggling with Obsessive Compulsive Disorder and anxiety. She is consumed with a fear of contracting C. diff, a bacterial overgrowth most commonly developed in a hospital (which she hasn't been to) and by people on antibiotics (which she's not on).
Aza's supporting cast consists of Daisy, who she's been friends with forever, so she "gets it", and occasionally Mychal, the artist who sits with them at lunch. When Richard Pickett, billionaire, goes missing (and a reward is offered), Daisy insists that Aza reconnect with his son Davis, who she met at "Sad Camp" years ago. So Daisy is trying to solve the mystery of where Pickett Sr. is, Davis is trying to keep his younger brother from falling apart over their missing farther, and Aza is trying to escape the ever-tightening spiral that is her mind.
I love John Green. I really do. And as I love John Green, I loved Turtles All the Way Down. But it is a John Green novel, complete with the same grievances and praises I sing every time he writes a new book.
It may not be the same book he always writes, but it features the same cast of characters. You've got your main character who is just looking for something more (Miles' Great Perhaps, Colin's eureka moment, Aza's proof that she's real), and the eccentric supporting cast member (Alaska, Hassan, Margo, and now Daisy). It even comes complete with the supporting actor's strange fixation (Radar's parents and the Black Santa, Gus's parent's Encouragements, and Tua, Richard Pickett's tuatara). Thankfully, he's abandoned his usual storymap for Turtles, and he's done so very successfully.
This is easily the most mature of his novels. Green manages to flesh out so much material that shouldn't work together into one novel. Mental illness is obviously the center piece here, but there are also characters dealing with loss, poverty, and wealth (and the challenges it brings). As usual, this book should be much heavier than it is, and that lightness is a function of Green's writing. If any writer besides Green tried to tackle so much in one novel, it wouldn't work. Somehow, he makes it all palatable.
Turtles All the Way Down reminded me of Perks of Being a Wallflower. They both feature a main character with a mental illness and a car ride late at night that spurs deep, existential thinking (Comparison: "But the world is also the stories we tell about it," vs "This moment will just be another story someday." "that just repeated, 'you're everything, everything, everything,' and I felt like I was," vs "I was really there. And that was enough to make me feel infinite." Who wrote which?). Aza and Charlie both struggle to participate in real life and are pushed into it by there friends. If you've ever read/enjoyed Perks, I'm sure you'll draw your own parallels, but it's very easy to see where some of Green's inspiration comes from.
Turtles raises some important points about being in a relationship (especially non-romantic) with someone who is suffering with a mental illness. They're not necessarily going to get better, and even if they do get better, they will likely never be well. Being close to someone who is ill can be burdensome, but if they "get it" (the way Daisy is supposed to), that's something they understand and signed up for. Daisy has no right to be as bitter as she is, and Aza is a much kinder person than I ever would be for forgiving her so easily. Aza could stand to learn a little from Daisy in the friend compartment, though. Aza is so busy struggling within her own head that she doesn't have any time to worry about any one or anything else. It's not something that she can help, but when she's not spiraling, it would be nice of her to show some gratitude to the people who are there for her.